Bikrampur Bhuiyan Medical College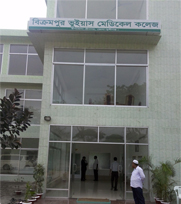 Bikrampur Bhuiyan Medical College is located in its own area near Dhaka.
The curriculum is conducted under the close supervision of experienced teachers with the highest degrees in their respective fields. The institution has its own auditorium to conduct the educational programs of the students. Each classroom is equipped with a multimedia projector and digital sound system.
Air-conditioned classrooms and auditoriums. Large air-conditioned library, which has a large collection of local and foreign books, journals and e-books with internet facility. There are 6 state-of-the-art labs for hands-on learning. Through Small Group Teaching Method, there is a system of providing education in small groups with a small number of students.
There are separate boys and girls hostels within the campus for the students. Each hostel is managed under the supervision of senior teachers. Apart from studies, there are opportunities for the mental development of the students including annual cultural week, indoor and outdoor games, debate competitions, picnics and educational tours. Scholarships are available for meritorious and disadvantaged students.